Contact Smart Cards

Contact smart cards are the size of a conventional credit or debit card. The contain a single, embedded, integrated circuit chip that contains either just memory or memory plus a microprocessor.

Memory-only chips are functionally similar to a small floppy disk. They are less expensive than microprocessor chips, but they also offer less security. They should not be used to store sensitive or valuable information.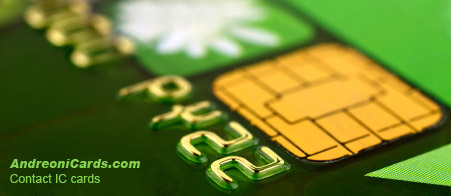 Smart Cards

Chips that contain both memory and a microprocessor are again similar to a small floppy disk, except they contain an "intelligent" controller that is used to securely add, delete, change, and update information contained in the chip's memory. The more sophisticated microprocessor chips have state-of-the-art security features built in to protect the contents of memory from unauthorized access.

Contact smart cards must be inserted into a card acceptor device. Pins attached to this reader make "contact" with pads on the surface of the card to read and store the information contained in the card's chip. This type of e-card is used to assist with network security, vending, meal plans, loyalty programs, electronic cash transfers, government IDs, campus IDs, e-commerce, health cards, and many more applications.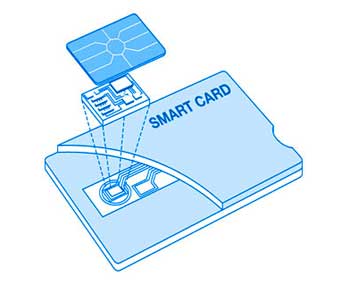 The amount of information this chip can carry and the way smart cards can be used has been evolving over many years.

Many of us are familiar with these cards. We use them as pre­paid cards, as credit and debit cards, as security access cards to buildings and for such things as medical or identity.

IC
IC Manufacturer
Memory
SLE5542
Infineon
256-Bytes EEPROM
SLE5528
Infineon
1K-Byte EEPROM
AT24C01
Atmel
1K-bit EEPROM
AT24C02
Atmel
2K-bit EEPROM
AT24C64
Atmel
64K-bit EEPROM
AT88SC102
Atmel
1K-bit EEPROM
If you don't see the IC chip you need on these charts, contact us with details about your contact card needs. Contact form.
RFID cards PRICING

For quotes, please with quantity, type of RFID and other specifications. We'll email you back a quote within 24 hours.
Contact cards can be customized with many of the same options and features available on our standard plastic cards. They include the following:

Full color printing

Magnetic stripes

Signature strips

Barcoding

Numbering

Scratch off panels
* For diecuts/special shapes and sizes, some restriction may apply. Please email us the dyeline before you create the artwork for your custom shape.
---
Related searches: Smart contact cards, contact card, IC cards, contact IC cards, smart cards, contact access cards.